Description
TrueMist Twister – Dual-mode Water-saving Nozzle is a tap nozzle that Converts low-pressure water flow into mist form in taps and dispenses water in such a way to maximize water utilization thereby saving up to 90% of the water from taps. Just a twist to save water.
This water-saving nozzle tap device is easy to install. Made of lead-free brass material that fits into the tap along with a washer. It has a small spout to which a cap is attached which can be twisted to adjust the flow of the water between mist and Shower flow mode. At its tightest position, this water-saving tap nozzle device reduces the water flow to a fine mist spray.
Enjoy the mist! Save Water! Participate in helping the environment to get better! Evolve!
The direction of use in the Kitchen:
Mist Mode is best for vegetable wash, Hand washes, mildly soiled plates washing and rinsing of Vessels. Best water mist spray nozzle for tap.
Shower / Spray Mode is best for Filling glasses, Vessel washing and Higher water quantity applications.
Why Dual mode Tap Water saving Nozzle is best for you?
Flow of water can be controlled for various application by minimizing the degree of rotation. Even though this tap nozzle has two flow mode, Water flow can be controlled variably and thus selecting the water flow rate that suits user requirements.


Advantage of Dual mode Water saving Nozzle for taps:
Mist flow mode dispense only 700 ml per minute (Saves 90% compared to Normal aerator).
Spray flow mode dispense only 3.5 litres per minute (Saves 60% compared to Normal aerator).
The best alternative to water aerator.
Just a small twist between mist and Spray mode.
Customization (We can provide mist water flow rates as per your requirement from 300 ml per minute to 1 liter per minute).
Can be retrofitted in any standard 22 mm Diameter Tap(M24/F24 threaded taps). No Tap replacement is needed.
Works both in Pressure-less Water systems (Gravity fed piping system) and Pressurized water systems.
Solid construction using Stainless steel / Brass material.
Ergonomic Design.
Anti rust proof.
Easy installation and maintenance – DIY – Simply unscrew existing aerator and replace it with Greenly Truemist Twister.
Optimized for varieties of usage including Home Faucets, Washbasin, Kitchen, Commercial establishments, Educational institutions and Shopping malls.
A tap nozzle insert is provided along with the package called Pressure regulator.
No Pressure regulator is required up to 2.5 bar. Pressure regulator required above 2.5 bar(anti-splash tap nozzle pressure regulator).
Extreme water saving without compromising the water usage.
Best Return on Investment.
Water Pressure at your taps Vs Output of water saving nozzle: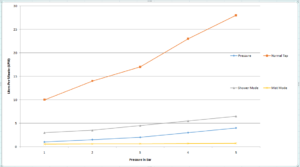 When you home piping system is installed with pressure booster pumps, the Pressure at tap point may be higher than 2.5 bar pressure.
Its advisable to attach pressure regulator at the back of water saver nozzle (only available in retail pack) supplied along with the package.
Looking for an economical alternative to water saving nozzle? check out our Water saving aerators.
Not finding right adapter to fit our water saving nozzle in to your tap? check out our Water saving nozzle adapters.
| | |
| --- | --- |
| Output LPM in Mist mode | 700 ml per minute (90% Savings) |
| Output LPM in Shower mode | 3.5 LPM (60% Savings) |
| Flow patterns | Mist and Shower |
| Method of Construction | Brass |
| Suitable Tap Thread size | Various Tap threads using adapters |
| Operating Pressure | 1 bar to 6 bar. |
| Country of Origin | India |